It all began with love at first sight
The story of our Finnish-American enterprise began when we met in an international online dating site during the fall 2002. From the beginning everything felt just right: we shared the same values and interests in life.
Our families and friends thought we had gone crazy. But we were so sure about us that we married on our third date only nine months after our first emails. The wedding was on a beautiful summer day 2003, on Kirsi's childhood home in Kauhajoki.
After the wedding we moved to the States to start our life together in Niagara Falls, close by the famous water falls. There we had our first two children and created our ceramics lamp collection that was named after our first children, Hans & Emma.
From State Of New York To Countryside Finland
Starting a creative business was natural for us while Mark had background with foam board art, decor and ceramics. Kirsi had worked years with interior decoration after she had graduated as an upholsterer and studied in Helsinki University.
As our family and business grew, we were longing for a peaceful and inspiring environment where to settle. The busyness of the New York State changed to the beautiful countryside lifestyle when moving to next door from Kirsi's parents in Kauhajoki 2007.
Our life as entrepreneurs would have not been possible without Kirsi's parents. Living next door to the grandparents have made us possible to pursue our Valkoinen Puu dream and raise our four children. Thank you grandma and grandpa Nurminen!
Experiences for five senses
In Finland we refined our dream about a ceramics shop combined with a cozy, international cafe that would feel like home for our customers.
Our dream enabled us to continue to be creative with our ceramic designs and designing our future cafes. Of course our love for baking, coffee and interest in high quality organic and local ingredients were a must to be included.
We are proud to serve you our delicious cakes and pies. We bake them with Mark's Grandpa John's recipes which he used in his American diner in the 1950's and cakes made with Kirsi's family recipes. Today as part of our concept we continue to strive to bring you new recipes, tastes and flavors.
American dream came true in Kauhajoki
All pieces fell into right places when we opened our first café in freshly renovated Kauhajoki Association's historical merchant's manor in 2011. The second café opened in Seinäjoki 2016, the third opened in Tampere June 2020 and the fourt one in Jyväskylä May 2021.
Mark often says his American dream has come true in Finland.
And the dreaming continues. Now there are four Valkoinen Puu cafés and more are to come in the future…
Responsibility at Valkoinen Puu
The Responsibility of Valkoinen Puu is taking care of one another and the environment
1.We take care of one another
When the staff feels good, the customers feel good and welcome too. We value an open and conversational working culture, where we all learn together as an organization. We are all equally important parts of the company.
2. We make choices that are better for the environment.
We favour organic and local products when possible. Local production means short transportation distances, more fresh products and thus a better taste. Organic production supports the important biodiversity.
You can purchase the food that hasn't been sold on our lunch via ResQ app. We want to do our best to avoid food wastage.
We recycle metals, plastics, paper and glass and make action to reduce the use of plastics.
3. Together we are more
Together we are more. We love to work in a network of collaborations, big part of the network being the local producers. Together we are a positive part of the local economy.
Check out the map below and see our local producers!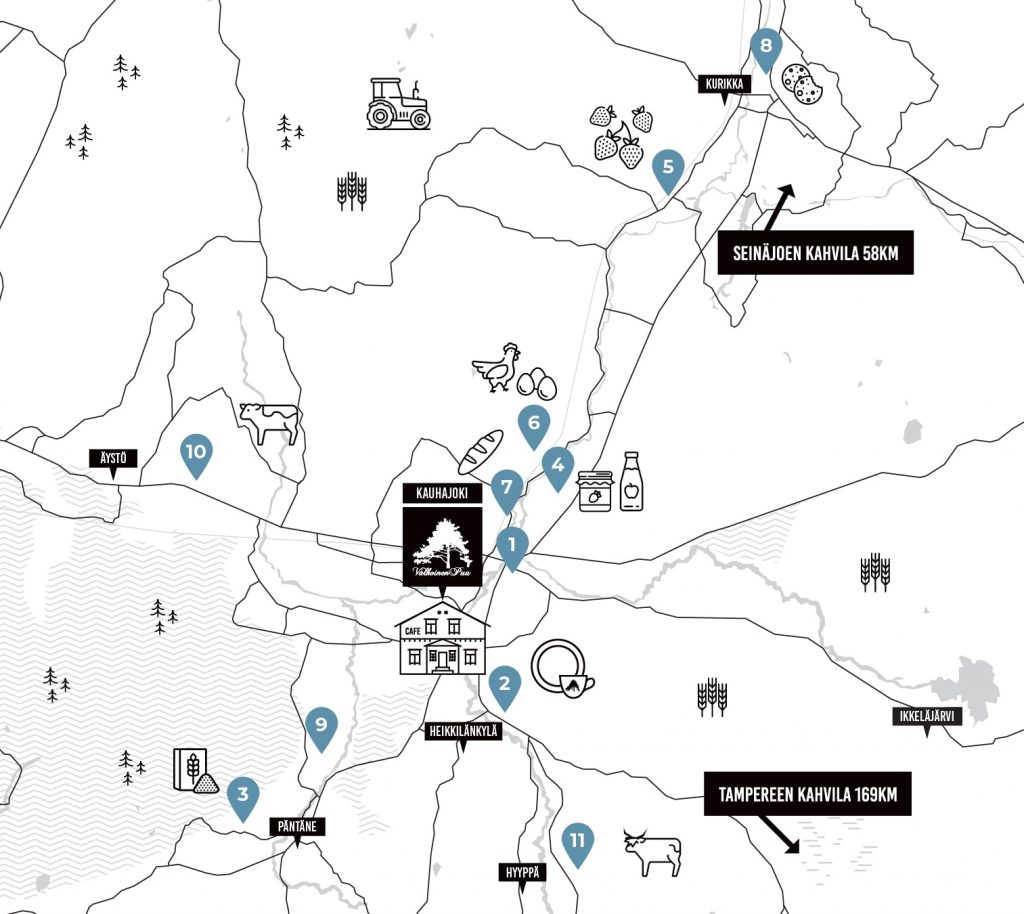 1

Valkoinen Puu Bakery

2

Valkoinen Puu ceramics studio

3

Merinomi Oy -organic spelt, wheat & oat mill.

4

Kukkasmäki farm -berries, juices and jams.

5

Rinta-Tassi farm -strawberries.

6

Mäkinen farm -free range eggs.

7

Kauhajoen laatuleipurit -whole grain panini bread.

8

Kotipirtti -naturally gluten free paninibread.

9

Myllymäen peruna Oy -Baltic Rose potatoes.

10

Laidun Hereford -bratwurst.

11

Riverhill's Highland -highland meat.
Hae meille töihin
Olemme aina avoimia uusille ja innokkaille työntekijöille. Lähetä meille vapaamuotoinen hakemuksesi ja CV:
Kauhajoki

kauhajoki[at]valkoinenpuu.fi
Seinäjoki

seinajoki[at]valkoinenpuu.fi
Tampere

tampere[at]valkoinenpuu.fi